Hoffman BMW Oil Changes in Watertown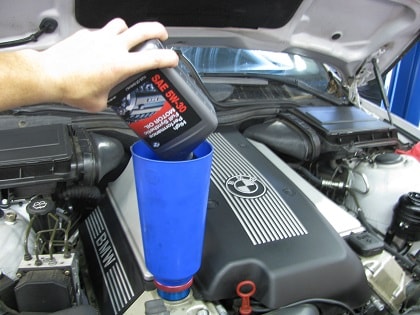 Realizing that your car is due for an oil change sometimes garners a negative response from drivers, particularly because the idea of taking time from your busy day to have this service seems more like a conspiracy to waste time than a necessity. The truth is, your BMW 228i, 328i xDrive, or X3 xDrive35i deserves to have the best care and our staff can provide that to you. It is important to ensure your vehicle has the proper parts and keeps to the recommended maintenance schedule to preserve its total health.
Why Do You Need An Oil Change?
The reason your vehicle needs to have its oil replaced often is because it acts as lubrication for the engine to reduce wear and friction, but it also provides cooling to prevent overheating. When oil is not flushed from the engine prior to adding oil in, toxins and debris could be accumulating along with the oil that has been broken down by heat, creating a varnish.
During your visit at Hoffman BMW of Watertown, we replace the engine oil and filter, but after a certain number of oil changes, we also replace the ventilation microfilter, air filter, and we offer a free car wash to send you on your way in style. While you wait, enjoy some complimentary comforts, including a comfortable lounge area and valet service within a 15 mile radius if you cannot stay for the duration of your appointment.
Signs you need an oil change
Oil changes are usually something that can be foreseen ahead of time. Usually, when it's time to get an oil change, the light on your dashboard will start blinking. In case the light doesn't turn on, there are other distinct ways of knowing it's time for maintenance. For example, the car will start to smell, or when driving, smoke will come out of your exhaust. After we perform an oil change on your car at Watertown BMW, a sticker will be placed on your windshield, telling you when we think it would be ideal for you to be served again. 
What A Difference We Can Make
Our BMW Trained technicians use only BMW parts on your vehicle for the best fit and performance because aftermarket parts are not in our vocabulary. You bought your new BMW car for its looks and performance and you know what is best for it, which means having it serviced at a dealership who has access to the OEM resources for all your vehicle's needs. Contact our team today at Hoffman BMW if you have questions regarding your model's individual service needs or to set up your appointment. Selling quality cars is just one facet of what our dealership has to offer Bristol, Southington, Naugatuck and Torrington customers and we encourage you to contact us to discuss your individual service needs.
Get Directions Below.